Facts, clues AND evidence
that the official scales of the
SLOVAK ASSOCIATION OF MOTOR SPORT (SAMS),
for whatever reasons, displayed INCORRECT values when weighing in the Parc Fermé.
On August 23, 2020, immediately after the race for the FIA-CEZ D2 at the Slovakia Ring, Patrick Schober and his Formula 4 were taken to the weigh-in in Box 1, which was prepared by SAMS in order to carry out a corresponding check of the minimum weight.

In this box there was a wireless device to test the Formula 4 using mobile ramps to the 4 wheel load scales.

During this check, a value of 560 kg was determined. The minimum weight for such vehicles (Formula 4) is 570 kg - including the pilot.
.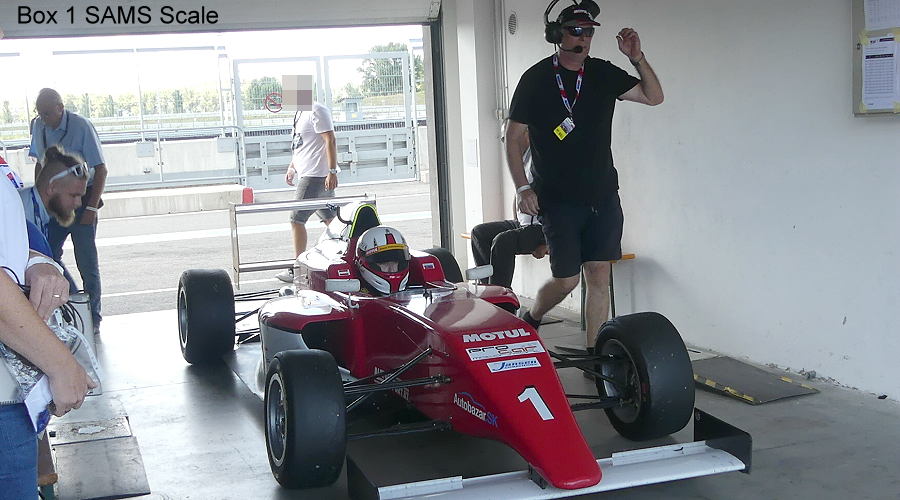 Peter Schober's comment:
Interesting fact here was the SAMS inspectors' ignorance as to the applicable minimum weight in our case. They eventually asked a coincidentally present Austrian AMF colleague who informed them about the correct value showing them the relevant section in a manual of the FIA-CEZ regulations.
Due to Peter Schober's (the team manager) immediate objection, that a weight of 560 kg was not possible because it was far too little, the SAMS inspectors repeated this test twice by putting the car off the ramps again, resetting the scales to 0 and the car was pushed back onto the scales.

Each test repeated the value of 560 kg.